The Greater Lansing Area Sports Hall of Fame is proud to announce the Class of  2019.  Eight individuals, several teams and our Dick Letts Community Service Award winners will be honored at our 44th annual Induction Dinner to be held at the Lansing Center on Thursday, July 25, 2019.
We look forward to you joining us for this eventful evening as we honor this year's group of outstanding inductees.
Class of 2019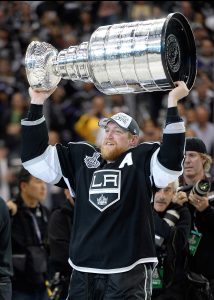 Matt Greene – A graduate of Grand Ledge High School, Matt played for three seasons with the University of North Dakota.  In 2004-2005, Greene captained the University of North Dakota Fighting Sioux to the NCAA Men's Ice Hockey Championship game, losing to the University of Denver Pioneers, 4-1.  Greene's professional hockey career began with the Iowa Stars, the American Hockey League (AHL) affiliate of the Edmonton Oilers.  He made his NHL debut with the Oilers in 2005.  In 2008, Greene was traded to the Los Angeles Kings and served as an alternate captain.  He led the Kings to two Stanley Cup Championships in 2012 and 2014 by beating the New Jersey Devils (2012) and the New York Rangers (2014). Matt retired from professional hockey in 2017.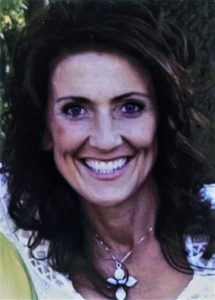 Gina Harrington –  A graduate of Potterville High School, Gina led her Volleyball team to the 1987-88 State championship.  That year they were also CMAC Champions, District and Regional Champions.  Gina was 1st team All-State, 2nd team All-CMAC, First team All-Region, and First team All-Area.
In basketball, Gina was #1 in points scored in one season (550 in 1989), #2 in overall points scored in career (1046), #2 in career assists.  in 1989-90 her team was League champions, Regional champions and State Runner-up.  Gina was named MVP, 1st team CMAC, Fab Five (Dream Team) Lansing State Journal and 1st team AP & UPI.  Her Potterville High School Jersey (#15) was retired.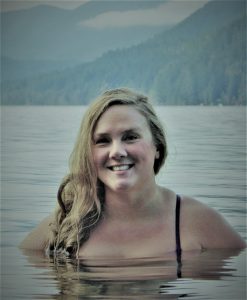 Melissa Kegler –  Melissa Kegler is an Open Water Marathon Swimmer from Holt, Michigan.  Open Water swimmers participate in swimming events held in lakes, rivers, and oceans.  Marathon swim distances are defined as swims of 10 Kilometers or greater.  Melissa's signature accomplishment is the completion of the Triple Crown of Open Water Swimming.  The Triple Crown of Swimming is a highly regarded marathon swimming challenge sanctioned by the Marathon Swimmers Federation and the World Open Water Swimming Association consisting of three historically important swims:  English Channel Marathon Swim-21 miles between England and France, Catalina Channel Marathon Swim-20 miles between Santa Catalina Island and the California mainland, and Twenty Bridges Marathon Swim-28.5 mile circumnavigation of Manhattan Island, New York City.
Melissa was the 175th person in history to complete this challenge.  To date, only 202 swimmers from around the world have completed this prestigious swimming challenge and                                   received the honor of being known as Triple Crown Swimmers.  Melissa is the first swimmer with Michigan roots to have accomplished this feat.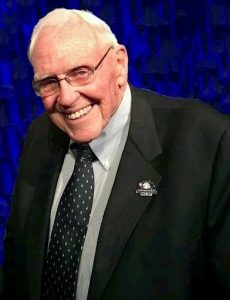 Roy Kramer – Roy won State Titles in Hudson, Dowagiac and East Lansing and was named Coach of the Year in 1964.  He served at Central Michigan University from 1967-1977 where they won the Division II National Title and he was named Coach of the Year in 1974.  Roy also served as the Athletic Director at Vanderbilt University from 1978-1990, and as the  SEC Commissioner from 1990-2002.  A recipient of fourteen Distinguished and/or Hall of Fame Awards (including Duffy Daugherty), Roy has also received the SEC Female/Male Athlete of the Year and Roy Kramer Awards.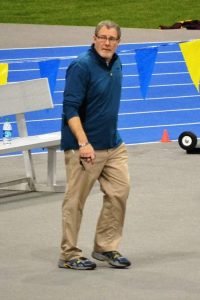 Denny Myers – A graduate of Grand Ledge High School, Denny exceled at coaching Cross Country and Track and Field.  He successfully led 15 teams to National Championships including 6 Men's Cross Country teams, 4 Women's Cross Country teams, 2 Men's Marathon teams, and 3 Women's Marathon teams.  Denny coached over 40 All American athletes in Men's and Women's Cross Country, Track and Marathon events.  One Men's Cross Country National Champion, two Women's Cross Country National Champions and two Men's Marathon National Champions were also part of his spectacular coaching career.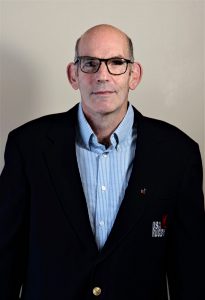 Dave Poquette – An avid Rugby player, Dave played on the United States Eagle 7's team from 1988-1990.  He also played with the Denver Barbarians, Grand Rapids Gazelles, the Central Michigan University Exiles and the Capital Area Crisis.  Dave was the National All Stars MVP in 1989 and the MVP at the National Championships 7's and 15's.  Dave worked as a coach at Michigan State University from 1992-2012.  He also coached the Midwest All Stars from 1990-1995 and the United States Eagle (Japan) in 1995.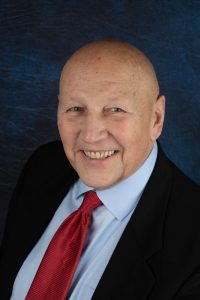 Pat Stump – While playing football for St. Mary's High School, Pat earned 3 Varsity letters playing two-way tackle and kicking.   He was named to the All Circuit and All City Teams in 1960 and was also Co-Captain that year.
At Northern Michigan University, Pat earned 4 Varsity letters playing offensive guard and defensive linebacker.  He was named an NAIA All-American in 1963 and 1964, All-State by the Associated Press (1964), and Co-Captain and MVP in 1964.
Pat was inducted into the Northern Michigan University Hall of Fame in 1979.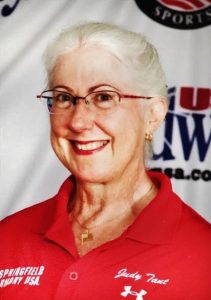 Judy Tant– A Precision Pistol Shooter from East Lansing, Michigan, Judy is an eight-time Women's National Pistol Champion, a ten-time High Woman in National Trophy Matches, and a four-time Woman Champion at the National Indoor Precision Pistol Championship.  She was also a member of the winning Center Fire Team at the 2012 National Matches, a member of the Mayleigh Cup team in 2004, and a member of the President's Hundred 13 times.  She is Double Distinguished in Service Pistol and .22 Rimfire.
Judy has also won several State Awards including:  Three-time Michigan State Outdoor Pistol Champion, Seven-time Michigan State Service Pistol Champion, Five-time Michigan State Indoor Pistol Champion, and Eighteen-time Michigan State Woman Pistol Champion.
Teams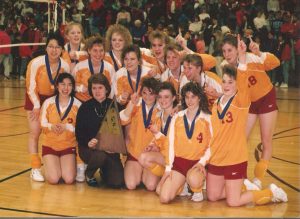 1988 Potterville Girls Volleyball – State Champions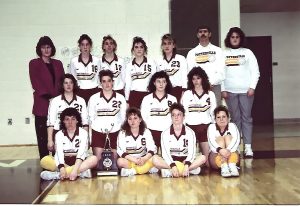 1989 Potterville Girls Volleyball – Runners-UP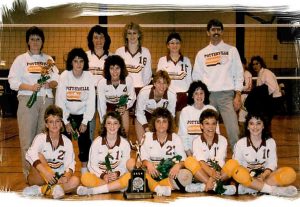 1990 Potterville Girls Volleyball – State Champions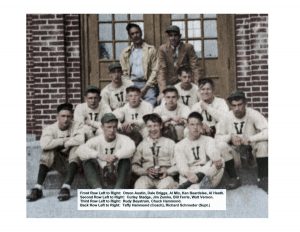 1947 Vermontville Baseball –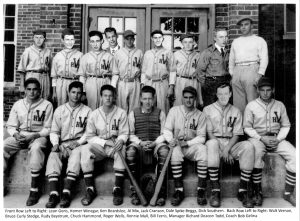 1948 Vermontville Baseball –

  1949 Vermontville Baseball –
Dick Letts Community Service Award: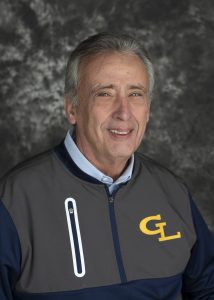 Roger Love – For many years Roger has served as one of the greatest ambassadors for youth sports in the Lansing area. From 1958-1962, Roger played Baseball, Basketball, Football and ran Track (1 year) for Grand Ledge High School, graduating in 1962. In 1963, Roger started the Grand Ledge Youth Football League using his own money to purchase uniforms. Since that time, he has been constantly involved with youth sports at varying levels including coaching football, basketball and baseball at the high school level.
Roger coached both Grand Ledge Football and Baseball at different High School Levels from 1963-1987. He played Basketball for the Army during his service (1965-1967). Following his tour of duty, Roger took over the Grand Ledge Youth Football League and worked with PONY Baseball (1967). In 1968, he ran 5th-8th Grand Ledge Football and scouted all Grand Ledge Varsity Football opponents.
From 1979-2011 Roger owned and operated First Place Sports and supplied many uniforms for teams in Grand Ledge. In 1987 he became the Grand Ledge JV Football Coach as well as the Assistant Athletic Director and currently serves in that capacity.  For the past twenty-five years, Roger donated all the trophies for the Diamond Classic Baseball tournament and he is active with First Place Sports when it comes to awards to young people in the Mid-Michigan area.

Roger has been married to his wife, Sandy, for 47 years and they have a daughter, Kelley.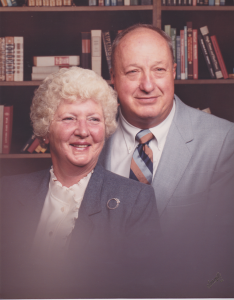 Dr. John Pudliner – Born in Johnstown, Pennsylvania, John Pudliner played high school basketball and was a star high school baseball player with a promising future starting for the Brooklyn Dodgers.  Instead, immediately upon high school graduation, he was drafted into the U.S. Army.  After serving as a medic in WW II, he played basketball for Thiel College and went on to medical school in Des Moines, Iowa.
After graduating from medical school in 1954, Dr. Pudliner moved to Lansing and began his 50 years of dedication to the well being of student athletes. His selfless support and devotion to athletes of all ages and skill levels encompassed many Lansing area high schools and colleges including:  Lansing's Eastern and Everett, DeWitt, Eaton Rapids, Mason, Grand Ledge, Waverly, St. Johns, Albion College, Alma College and his beloved Okemos.  "Doc Pud's" love and understanding of athletics, combined with his skill as a physician, led him to be known as the "Father of Sports Medicine in Lansing".  With the unselfish support of his wife Margery, during the years from 1960 to 2004, he made Okemos Athletics his "Home", and Doc Pud could be seen on the sidelines or bench of nearly all Okemos Athletics Events including those of his children, John Henry Pudliner, Jr. and Dr. Heidi Pudliner Niergarth.  In 1996, Doc Pud was inducted into the BCAM Hall of Fame, and in 1997 he received special acknowledgement with the naming of the Doctor Pudliner Capital City Classic Trophy.