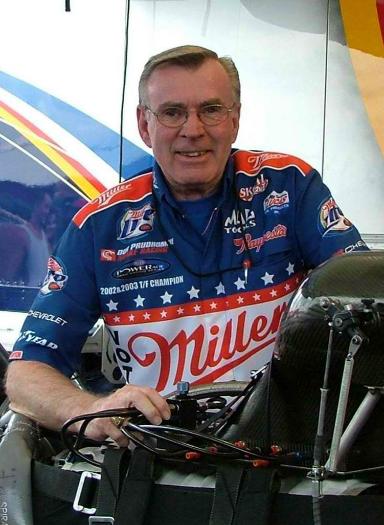 Lansing Sexton High School
Drag Racing
A native of DeWitt, MI, Dick LaHaie's drag racing career began in the late 1950's, making his first run down Central Michigan Dragway in a car that also provided everyday transportation. In 1962, Dick got the opportunity to run the legendary, supercharged fuel roadster called the "Glass Chariot".
Junior Elimination Champion – 1966.
United Drag Racers Association Champion – 1970, 1973, 1976.
15 time National Hot Rod Association (NHRA)
event winner as a driver/owner – 1980-1991.
47 time NHRA event wins as Crew Chief – 1992-2005.
Five time NHRA World Champion – 1987, 1994, 1995, 2002, 2003.
Selected as a member of the NHRA Top 50 All-Time Drivers.
Only NHRA Champion as Driver and Crew Chief.