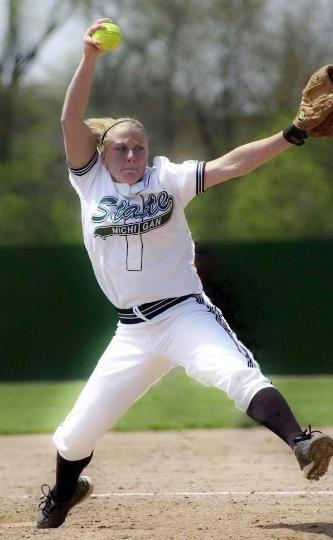 Jessica Beech Bograkos – 2014
Okemos High School
Volleyball – All State, Basketball – All State.
Softball
All-Conference, All-Area, All-Region, All-State.
Member of Lansing State Journal Dream Team.
Member of 2000 MHSAA Division I State Championship Team.
Named 2000 State of Michigan Miss Softball (Pitcher).
Finished career with 57 consecutive victories (then state record) and Earned Run Average (ERA) of 0.57.
Listed in the MHSAA Record Book 12 times, five times in pitching and seven times in hitting categories.
Michigan State University
Softball
Varsity Member, 2001-2004.
National Fastpitch Coaches Association (NFCA)
All-American – 2003, 2004.
First Team All-Great Lakes Region – 2003, 2004.
First Team All-Big Ten in 2004 with 29 wins as a pitcher and a conference leading .406 batting average.
Member of 2004 Big Ten Tournament Championship Team.
Big Ten All-Tournament Team – 2004.
Set MSU career pitching records for Wins (72), No-Hitters (4), Shutouts (24), Strikeouts (659).
Set MSU single-season pitching records for Wins (29),
Innings Pitched (283.1), Appearances (53), Shuouts (13), Strikeouts (264)